About Us
Roopnagor is a Indian takeaway in Devon. Why don't you try our Mougol or Chicken Phall?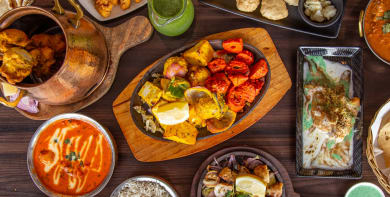 Reviews
98 reviews
Ann
"Ordered the Meal for 1 and it was definitely worth the money. Excellent food, arrived hot and tasted great! I will order again, Thank you."
18/09/2021
Emma
"Please stop making such delicious food we crave it, eat it then crave it again"
16/09/2021
Nick
"Brilliant as always"
11/09/2021
Matt
"Always comes red hot and freshly cooked. Top Indian."
28/08/2021
Menu
Chicken Chaat
Sliced chicken with mild spice served with salad
£2.75
Aloo Chaat
Spiced potatoes served with salad
£2.50
Aloo Puree
Spiced potatoes with deep fried puree
£2.75
Mixed Kebab
Lamb tikka, chicken tikka & seekh kebab & onion bhaji
£3.80
Chicken Tikka Starter
Diced chicken, marinated with mild spices & cooked in clay oven
£2.75
Lamb Tikka Starter
Diced lamb marinated with mild spices & cooked in clay oven
£3.00
Seekh Kebab Starter
Minced meat blended with coriander, fresh herbs & onions, made like a sausage on skewers & barbecued
£2.80
Shami Kebab Starter
A blend of minced meat, spices, fresh herbs & shallow fried
£2.80
Prawn Puree
Spiced prawns served on a deep fried puree
£3.00
King Prawn Butterfly
Deep fried king prawns in breadcrumbs with our own spice
£3.60
Meat Samosa
Minced meat spiced & stuffed in thin pastry
£2.20
Vegetable Samosa
Folded parcels freshly made & filled with spiced vegetables
£2.20
Onion Bhaji
Sliced onion mixed with gram flour, spiced & deep fried
£2.10
Roopnogar Special Tandoori Chicken
Sliced chicken OR lamb with hot spice, green chilli & garlic
£6.50
Roopnogar Special Tandoori Lamb
Sliced chicken OR lamb with hot spice, green chilli & garlic
£6.50
Chicken Tikka Main
Diced chicken marinated with mild spices & cooked in a clay oven
£5.40
Lamb Tikka Main
Diced lamb marinated with mild spices & cooked in a clay oven
£5.90
Tandoori Chicken Main
Tandoori half chicken marinated in yoghurt & spices & cooked in clay oven
£5.80
Tandoori King Prawns
King sized prawns marinated in mild spices & cooked in clay oven
£9.95
Tandoori Mixed Grill
Assortment of tandoori dishes
£7.95
Chicken Shashlik
Marinated chicken with tomato & green pepper cooked in clay oven
£6.50
Lamb Shashlik
Marinated lamb with tomato & green pepper cooked in clay oven
£6.95
Chicken Madras
Cooked in spicy rich sauce with lemon juice
Fairly hot
£5.20
Chicken Vindaloo
Marinated in lemon juice with various herbs & spices
Very hot
£5.30
Chicken Phall
Very very hot
£5.50
Chicken Korma
Cooked in mild spices with creamy sauce
£5.50
Chicken Bhuna
Cooked in browned onions, tomato, mild spices with a touch of garlic & ginger
£5.50
Chicken Dopiaza
Cooked with sliced onions, tomatoes & green peppers
£5.50
Chicken Rogan
In Roopnogar's own special spice with tomatoes & a touch of garlic & ginger
£5.50
Chicken Sagwala
Medium hot cooked in fresh spinach
£5.50
Chicken Dansak
Cooked with yellow lentils in a hot, sweet & sour sauce
£5.50
Chicken Pathia
Boneless chicken cooked in a hot spicy sweet & sour sauce
£5.50
Chicken Malaya
Chicken cooked in mild spice with pineapple & creamy sauce
£5.50
Chicken Kashmir
Chicken cooked in mild spice with bananas & creamy sauce
£5.50
Chicken Bombay
Cooked with egg, potato & spices
£5.50
Chicken Ceylon
Cooked with coconut - hot & sour
£5.50
Roopnogar Special Curry
Chicken, meat, prawn, king prawn cooked in spices
£7.50
Tikka Masala Chicken
In our own flavoured creamy sauce
Mild
£6.50
Tikka Masala Lamb
In our own flavoured creamy sauce
Mild
£6.50
Pasanda Chicken
Cooked in fresh cream, cultured yoghurt with ground almonds & herbs
Very mild
£6.90
Pasanda Lamb
Cooked in fresh cream, cultured yoghurt with ground almonds & herbs
Very mild
£6.90
Chilli Masala Chicken
Tikka cooked in hot sauce with green chillies
Hot
£6.50
Chilli Masala Lamb
Tikka cooked in hot sauce with green chillies
Hot
£6.50
Tandoori Chicken Masala
Boneless tandoori chicken cooked in our own flavoured sauce
£6.50
Tandoori King Prawn Masala
Tandoori king size prawns, cooked in mild spice sauce, flavoured with almond
£9.95
Makhani Chicken
Mildly spiced, roasted in a clay oven & served with a special sauce
£6.50
Makhani Lamb
Mildly spiced, roasted in a clay oven & served with a special sauce
£6.50
Mougol Chicken
Cooked in special mild sauce with cream & almond
Mild
£6.50
Mougol Lamb
Cooked in special mild sauce with cream & almond
Mild
£6.50
Karahi Chicken
Cooked with spices & tossed in an iron souk
£6.50
Karahi Lamb
Cooked with spices & tossed in an iron souk
£6.50
Tikka Bhuna Chicken
Cooked in browned onions, tomato, spices garlic & ginger
£6.50
Tikka Bhuna Lamb
Cooked in browned onions, tomato, spices garlic & ginger
£6.50
Jalfrezi Chicken
Diced, cooked in hot spices, green chilli & peppers
Hot
£6.50
Jalfrezi Lamb
Diced, cooked in hot spices, green chilli & peppers
Hot
£6.50
King Prawn Karahi
King sized prawns cooked in spices & tossed in a souk
£9.95
King Prawn Jalfrezi
King sized prawns cooked with hot spices & sliced green chilli
£9.95
Garlic Chicken
Cooked with fresh garlic
£6.50
Garlic Lamb
Cooked with fresh garlic
£6.50
Garlic Chilli Chicken
Cooked fresh garlic & chillies
Hot
£6.50
Garlic Chilli Lamb
Cooked fresh garlic & chillies
Hot
£6.50
Butter Chicken
Chicken tikka cooked in garlic butter with almonds & coconut in creamy sauce
£7.95
Murgh Masala
Boneless tandoori chicken cooked in special mince meat sauce
£7.95
Achari Chicken
Chicken OR lamb tikka with onions, pepper, pickle & chutney
Medium
£7.95
Achari Lamb
Chicken OR lamb tikka with onions, pepper, pickle & chutney
Medium
£7.95
Badami Chicken
Cooked in special mild sauce with cream, almond & peanut paste
Mild
£6.50
Jaisalmar Chicken
Cooked in special mild sauce with cream, onion, peppers, almond, coconut powder & our own special spice
£6.50
Jaisalmar Lamb
Cooked in special mild sauce with cream, onion, peppers, almond, coconut powder & our own special spice
£6.50
Mangalore Chicken
The unusual mix of cumin seed with hot spices, dry chilli, onions & peppers give this dish its distinctive fresh taste, wonderful with extra chilli
£6.50
Mangalore Lamb
The unusual mix of cumin seed with hot spices, dry chilli, onions & peppers give this dish its distinctive fresh taste, wonderful with extra chilli
£6.50
Lamb Madras
Cooked in a spicy rich sauce with lemon juice
Fairly hot
£5.30
Lamb Vindaloo
Cooked in lemon juice with various herbs & spices with a rich sauce
Very hot
£5.50
Lamb Korma
Cooked in mild spices with a creamy sauce
£6.00
Lamb Bhuna
Meat with onions, tomatoes & mild spices with a touch of ginger & garlic
£6.00
Lamb Dopiaza
Medium to mild, cooked with herbs, spices & sliced onion
£6.00
Lamb Kashmir
Meat cooked in mild spice with bananas & creamy sauce
£6.00
Rogan Josh
In Roopnagor's own special spice with tomatoes & a touch of garlic & ginger
£6.00
Lamb Sagwala
Meat cooked in spinach, garlic & mild spices
£6.00
Lamb Brinjal
Meat cooked with aubergines & medium spices
£6.00
Lamb Dansak
Cooked with yellow lentils in a hot, sweet & sour sauce
£6.00
Lamb Pathia
This is a method involving cooking pieces of meat in a hot, spicy, sweet & sour sauce
£6.00
Lamb Malaya
Meat cooked in mild spice with pineapple & creamy sauce
£6.00
Lamb Bombay
Cooked with egg, potato & spices
£6.00
Lamb Ceylon
Cooked with coconut, hot & sour
£6.00
Prawn Madras
Cooked in a spicy sauce with tomatoes & lemon juice
Fairly hot
£5.75
Prawn Vindaloo
Cooked in a very hot sauce with lemon juice
Very hot
£5.95
Prawn Korma
Cooked in creamy sauce
Mild
£6.00
Prawn Bhuna
Cooked in browned onions, tomatoes, mild spices, with a touch of garlic & ginger
£6.00
Prawn Dansak
Cooked with yellow lentils in a hot, sweet & sour sauce
£6.00
Prawn Pathia
Cooked with a hot, sweet & sour sauce
£6.00
Sag Prawn
Cooked in spinach & garlic
£6.00
King Prawn Madras
Cooked in a spicy sauce with tomatoes & lemon juice
Fairly hot
£6.95
King Prawn Vindaloo
Cooked in a very hot sauce with lemon juice
£6.95
King Prawn Korma
Cooked in a very mild creamy sauce
£7.45
King Prawn Bhuna
Cooked in browned onions, tomatoes, mild spices & a touch of garlic
£7.45
King Prawn Dansak
Cooked with yellow lentils in a hot, sweet & sour sauce
£7.45
King Prawn Pathia
This method involves cooking in a spicy sweet & sour sauce
£7.45
King Prawn Sag
Cooked with spinach & garlic
£8.50
Roopnagor Special Biryani
£8.95
Madras Mushroom
Fairly hot
£5.00
Madras Vegetable
Fairly hot
£5.00
Vindaloo Mushroom
Very hot
£5.00
Vindaloo Vegetable
Very hot
£5.00
Korma Mushroom
Cooked in mild spices with a creamy sauce
£5.00
Korma Vegetable
Cooked in mild spices with a creamy sauce
£5.00
Bhuna Mushroom
With onions & tomatoes, mild spices & a touch of ginger
£5.00
Bhuna Vegetable
With onions & tomatoes, mild spices & a touch of ginger
£5.00
Dansak Mushroom
Cooked with yellow lentils in hot, sweet & sour spice
£5.00
Dansak Vegetable
Cooked with yellow lentils in hot, sweet & sour spice
£5.00
Pathia Mushroom
Hot & spicy
Sweet & sour sauce
£5.00
Pathia Vegetable
Hot & spicy
Sweet & sour sauce
£5.00
Mushroom Bhaji Side
Fresh mushrooms cooked with medium spices
£2.50
Mushroom Bhaji Main
Fresh mushrooms cooked with medium spices
£4.90
Sag Bhaji Side
Fresh spinach cooked with herbs & garlic
£2.50
Sag Bhaji Main
Fresh spinach cooked with herbs & garlic
£4.90
Cauliflower Bhaji Side
Cooked in mild spices
£2.50
Cauliflower Bhaji Main
Cooked in mild spices
£4.90
Chana Bhaji Side
Chickpeas cooked with mild spices
£2.50
Chana Bhaji Main
Chickpeas cooked with mild spices
£4.90
Bhindi Bhaji Side
Fresh ladies fingers with medium spices
£2.50
Bhindi Bhaji Main
Fresh ladies fingers with medium spices
£4.90
Mixed Vegetable Bhaji Side
Dry cooked with medium spices
£2.50
Mixed Vegetable Bhaji Main
Dry cooked with medium spices
£4.90
Mixed Vegetable Curry Side
£2.50
Mixed Vegetable Curry Main
£4.90
Bombay Aloo Side
Potatoes cooked with mild spices
£2.50
Bombay Aloo Main
Potatoes cooked with mild spices
£4.90
Sag Aloo Side
Fresh spinach & potatoes cooked with mild spices
£2.50
Sag Aloo Main
Fresh spinach & potatoes cooked with mild spices
£4.90
Aloo Gobi Side
Potatoes & cauliflower cooked with mild spices
£2.50
Aloo Gobi Main
Potatoes & cauliflower cooked with mild spices
£4.90
Tarka Dal Side
Mixed lentils cooked with mild spices & fried garlic
£2.50
Tarka Dal Main
Mixed lentils cooked with mild spices & fried garlic
£4.90
Brinjal Bhaji Side
Fresh aubergines cooked with medium spices
£2.50
Brinjal Bhaji Main
Fresh aubergines cooked with medium spices
£4.90
Sag Panir
Spinach & cheese with cream, mildly spiced
£2.75
Mattar Panir
Peas & cheese with cream, mildly spiced
£2.75
Aloo Panir
Potato & cheese with cream, mildly spiced
£2.75
Keema Naan
With mince meat
£2.40
Peshwari Naan
With coconut
£2.20
Garlic Naan
With fresh garlic
£2.20
Naan Wrap
Chicken with salad & mint sauce
£4.00
Tandoori Mixed For 1
Chicken tikka
Seekh kebab
Lamb tikka
Lamb OR chicken bhuna
Bombay aloo
Pilau rice
Plain naan
£14.00
Balti Special For 1
Tandoori chicken starters
Poppadom with chutney & salad
Chicken OR lamb balti
Bombay aloo
Pilau rice OR plain naan
£14.00
Chef's Special For 2
As starter:
Chicken tikka & onion bhaji
Chicken mougol
Lamb madras
Sag aloo
2 x pilau rice
Garlic naan
£20.00
Vegetable Special For 1
Onion bhaji
Poppadom with chutney
Vegetable balti OR korma
Sag aloo
Pilau rice OR plain naan
£13.00
Contact Us
Find Us
67-69 Wolseley Road, Devon, PL23BL
We deliver to
PL1, PL2, PL3, PL4, PL5